Thank you for your order or inquiry!

---
Please stop by Che' Designs again soon...
you never know what you'll find!

---
If you like what we are doing and creating please feel free to grab one of the banners or "buttons" below and link it back to the Che' Designs New Homepage.
Thanks again!
---
Banner one
Banner two

Banner three

---
"Buttons"
one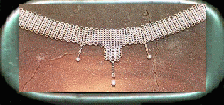 two

three

four

---
Directions for copying and linking...
Linking and downloading banners can be done by;
Right-clicking on the image/banner you want,
Scrolling down to "save image as" and
typing in the name you'd like for the image.
Then put it into your homepage or site.
Go the the Che' Designs New Homepage at http://members.tripod.com/~che4u/index2.html
and either copy the address above or on the homepage.
Right click on the image in your page and and scroll down to "link image using". There you paste in the address and thus create a link!
It seems difficult at first but, (depending on your browser,) it can be pretty simple. We use Netscape Collabra and really like it!
Good luck and thank you.