-
Map to my 'Silver Lair' :)
-
-
-
I drew this map with the central street being Elm St.,
(it is pretty much the main drag here in Manchester)...just follow the drawing from there.
I have a detailed description of what to look for below.
-

---
-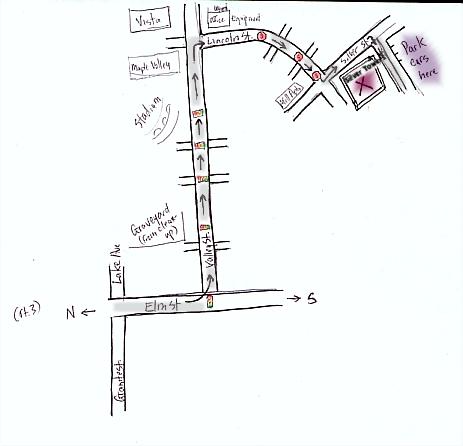 -
---
-
Detailed Directions
-
From Elm St. hang a left onto Valley St. I think that there are four lights, but there may be only three, (but the landmarks will tell you when to turn)...
-
Once you turn onto Valley you will go about 20 feet before you hit your first light :) It is at the top of a hill. As you go through this light, (straight), look to the left and you'll see the graveyard that we did the Samhain cleanup at. You'll go straight through another light, you'll see a Cumberland Farms on the right, you'll go straight through another light and you'll see a 'stadium' to the left then you'll hit another light...go straight through that one...you'll see a plaza to the left, Maple Valley Plaza, then take the next right onto Lincoln St. If you hit Vista Foods you've gone too far.
-
Once you're on Lincoln you'll come to one four-way stop, go straight through it. The you'll come to another stop...go straight through that one also. At the next stop you'll see a renovated mill that is now apartments, on the right...wish I lived there but I can't afford it :) The street that you are stopped at is Silver St.(appropriate huh...a metalsmith living on Silver st. :), you can see our buidling across and to the left of you, it's big, it's uninviting, it's tan and it's municipal looking. Hang a left and once you pass the building, (it's the first one), then take a right and park next to the building, in the parking area.
-
Go in the front door and buzz # 409, (#44 on the buzzer panel, I think *smile*)..there's a list on the panel so you can look it up. I'll buzz you in and then just come up to 4th floor.
-
Any problems / questions call (603) 668-2345
-May the Godess be with you :)
(actually it's not as hard to find as it seems...just a lot of lights/stops)
---
-
e-mail me for more info. or comments / questions.